"Bedouin tracks to the diving spot.  Nice coral-forest".  That was my only notes
from the Blue Hole diving in Dahab back  in 1982. Now, 31 years and well over a thousand
dives on various reefs around the world, I revisited the Blue Hole around New
year..and this time I was more enthusiastic : The reef at the Blue Hole is
unbelievable nice – with a great and healthy variety of both corals and fish. In
the meantime diving at this spot has turned into "big business".  Now tech-divers from all over the world try
their luck in the deep inside the hole, free-divers make attempts to break the
depth record in the middle of the hole and more peaceful snorkelers and divers
just enjoy the beauty of the area.
Dry coral viewing
A short trip with a big catamaran took us ( my wife, Ulla, and my son, Alexander ) to
Ras Mohamed, the Southern point of the Sinai Peninsula. This boat ( or ship –
it can take 150 passengers)   gives the tourists a chance to see the life on the reef – without getting wet. Through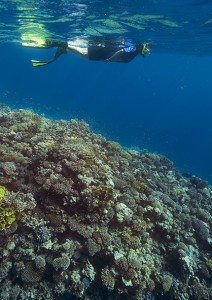 big windows under the waterline, you can watch the corals and fish, only a few meters away.
Alexander took the opportunity to go skin diving ( not skinny dipping)  and get a look at the guests – from the
outside.