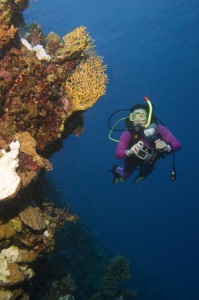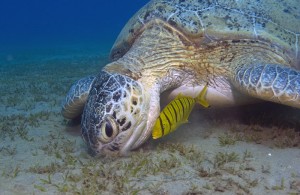 Life is not all bad, when you can swim around in 28 degree hot water and enjoy the life among the corals. We dragged some 126 kg. of equipment from Copehagen in Denmark to Eco Lodge Nakari Village, just South of Marsa Alam in Egypt…But it was worth it. Very easy access to the healthy house reef, friendly staff, nice housings and an overall good spirit. You could even choose, whether you wanted to live in a tent – or in an air conditioned "charlet".
After the check-out dive it was completely up to yourself, how much time you wanted to spend in the wet element. From sunrise to well after sunset you could just pick up your tank, write on a board whether you would be going to the North site or the South site of the bay…and head for the Red Sea – ten meters away.
A trip to a nearby bay gave a whole bunch of turtle-pictures. The big, green turtles – with one or two remora suckerfish mounted on their back – chewed on the sea grass, and couldn`t care less about being photographed. And they were all over the place. Great.
A boat trip took us  to Dolphin Reef, where  we swam through a nice cave-system. Every time you turned your flashlight on or took a picture, the walls and ceilings showed their real colors. Very nice.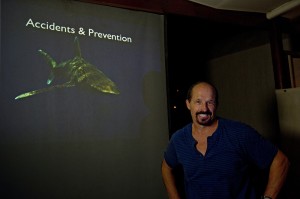 One night a marine biologist, Dr. Erich Ritter, talked about sharks. He has been among sharks for many years and is trying to give the world an awareness of the shark situation. And it is quiet horrible.We are killing several hundred millions sharks each year – many of them before they reach maturity  – mainly to get their fins. And –this came as a big surprise – Spain is leading the killing party. On the same token only a handfull humans are killed by sharks.
Having taken both video- and photo equipment along on the trip, I did spend a considerable amount of time, nursing my O-rings..It never becomes my favorite pastime, but it needs to be done. A week proved, once again, to be much too little time for the diving trip – and also once again we decided, that this place definately needs a revisit in a hopefully not too distant future.