Taba – a trip to a  border-line place – between two countries and two elements…
Taba is the border town between Israel and Egypt, almost at the bottom of the Red Sea. It was a perfect place to enter the New Year.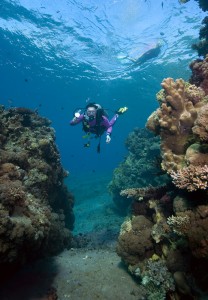 The corals were surprisingly healthy and the smaller fish like anthias, surgeonfish, angelfish, coral trouts were plentiful.  We dived with an easy-going dive master, Walid, at "the Aquarium", Maxwell , Pharaoh Island and the Canyon.  The viz was real nice – like 20 to 30 meters – and best of all : We were all alone.
A new (pink) suit for Ulla, arrived by mail from Thailand, the day before our departure. It was tailor made and only entered  our diving back, because we were told, that the "old yellow suit" had been in too many pictures and articles. Damn. Because yellow is absolutely the best diving-suit color for pictures. But what can you do, when an editor has another opinion ?  Anyway, we got a chance to check it out. Nice challenge. (Pink easily turns bluish with the lack of light).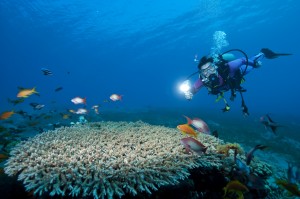 The Red Sea was a bit on the chilly side as the temperature came to 21 degrees. Wiser people – which meant everybody else, dived in four or five mil suits. I stayed with my one mil. An octopus came out to play with us, and I could almost hear it laugh, as I was shivering  and hardly could hold my camera steady . There seemed to be lionfish all over – hanging, like glued, upside down under corals and from time to time swimming around, ever so slowly.  Small, white moray eels, looked us over and groups of glassfish let us pass through their formation.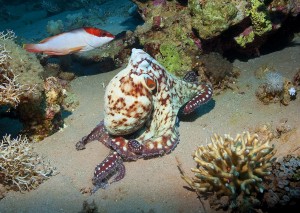 At the hotel we met a family, who were kind enough to let us photograph them, playing in the pool. Though it was a family hotel, it was very quiet.
Taba is a good exit point for trips. Petra in Jordan is only a short boat ride away. You hike for an hour through narrow canyons, with red cliffs hovering above. From time to time you`ll have to jump  aside in order to get out of the way, as horses, camels and wagons come rushing by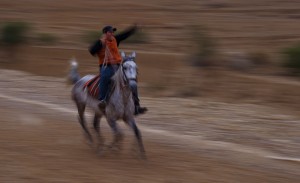 – but then, at the end,  you`ll  be in front of the fantastic, famous, old "Treasury".   43 m high and 30m wide, carved out of the red rock. It has been declared "World Heritage Site" by UNESCO and a "wonder of the world". It was made in the first century BC as a tomb. It is fantastic and the whole area is a gift to a photographer.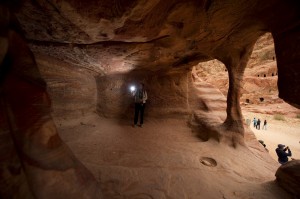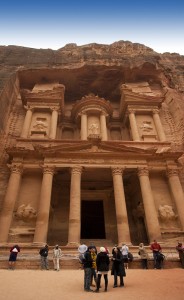 The week passed much too fast.  We hiked into the dessert. We dived and we swam.  We gathered materials for a couple of articles, but we could have spent much more time in – and around Taba. Now it`s on the list of "places, we`d like to visit again".