The locals eat mopane worms as candy, but after having tasted a few – as appetizers – I must confess, that I do find  them a little salty.
In June we visited Mozambique. Around "the great grey-green, greasy Limpopo River" as Rudyard Kipling called it, a national park combining wildlife and areas from three countries, is in the making. Hornbills and kingfishers seemed to be all over the area and even a giraf, a Kudu and a crocodile came around to study our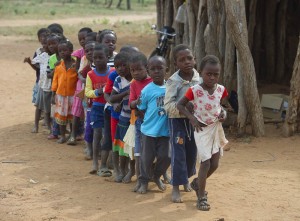 white faces. We also visited a local school inside the park. The kids either go to school in the morning or the afternoon, but, as the principal told us – "We really need a few things for the school – like books, paper, pens, black boards…and 40 bags of concrete and a few tin plates for roofs."
Next stop on the tour was Inhambane at the Tofo strait. A young, bright and beautiful marinbiologist, Dr. Andrea Marshall – Queen of mantas – has recently found a new species of Manta rays. With a underwater viz at four meter, it proved to be harsh conditions for diving and – not least – taking pictures. Though these fish are big, they still move pretty fast. And spotting a manta, catching up with it, making the camera focus and get the picture, proved to be rather difficult. It just cann`t be easy to perform a study under these circumstances.
At Vilanculos, a few hundred kilometers North of Inhambane, we were met by the local WWF. "We have two major assets here – fish and tourism", the mayer, Sunaimane Amugy, told us. During the next days we went fishing with fishermen and attended comunity meetings in villages and witnessed the tough life of fisher-men/ women and families.
Last stop on the trip was the tourist-part: Nyati Beach Lodge – with sand dunes on the backside, a lagoone on the left hand side and the wild ocean on the right hand side. Here we went canoing in the sunset, walked for hours, studying runing crabs and star fish…and tried to sneak up on a group of flamingoes…The latter proved difficult: Even though we crawled on our stomachs – with only our heads and bottoms visible – they spotted us – and probably had a good laugh.