REUNION
Reunion or "Action island" as it should be called, is situated just East of Madagascar.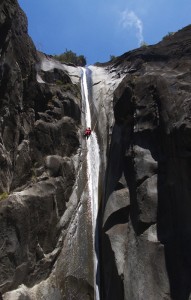 The day after our arrival, a  French guide, Philippe,  took charge of our lives. Equipped with a wetsuit, protection-dress, helmet and climbing harness we arrived to the first of a series of waterfalls just outside Cilaos.
  – Just relax and take it easy, Philipped adviced, as I was swinging out from the cliffs to make a backward rappelling-kind-of-trip some 32 meters downwards.  About five meters from the bottom a whistling signal sounded from way up, telling that it was time to let go of the rope. I landed in the pool as elegant as a brick wall collapsing.
 The next drop was 55 meter – and gave a fantastic view all the way down.  Once you got to trust the equipment, you really could enjoy sliding down in the waterfall and from time to time having a fresh shower. 
 Getting to the bottom of all the falls and realizing that there was no lift back up, the hardest part of the day came.  After a crash course in safety and carabine handling, we started climbing. Here and there it became a little challenging.  Not too far from the top we should pass some fifty meter on a stony path with several hundred meter vertical drop on both sides. I hate to admit it, but I was so focused on where to put my big feet, that I  did not get the camera out of my backpack..Something I regret every time I get flashbacks from this passing.
We were staying some days at a hotel called "Grand Hotel du Lagon". The hotel is big and has five stars – the lagoon, that lies just in front of the hotel should have six stars – it is large and protective and offers nice views as well as a lot of ways to exercise. We waded out equipped with mask, snorkel, finns and photo equipment and realized a few things:  The coral reef starts only a few meter from the beach and the stackhorn corals are all over and very healthy. The next thing we found out was, that a current was running parallel with the beach and that the borrowed finns were too soft. While I was trying to pull my stomach  up to avoid getting  in contact with the corals, I put my finns in fast-forward-mode – going up and down and side wards.. And gained exactly nothing.  We got some pictures and a lot of exercise – without hurting the corals.
A few days and some 300 hairpin bends later, we arrived to Hell-Bourg in the backland. While we from time to time had the pleasure of a few raindrops, we hiked along a path looking for three recommended waterfalls in the forest.  After an hour and a half, we came within hearing distance of the falls. But us being rather high above sea level and the clouds being rather low made a combination where we could only see clearly for about twenty meter…So no impressive waterfall on that account. 
We did get to see a lot of waterfalls during our trip, though. Half of Reunion is very green – meaning it gets lot of rain, whereas the other part is rougher, due to the volcano and the surrounding hills and mountains.
At the very end of our trip we went horseback riding in the hills. Our guide, Rico, looked like he had stepped right out of a film. He was very patience with us and had a special way of communicating with the horses.
We had also hoped to go scuba diving, as Reunion should have some nice reefs. But due to an un-cooperating storm, the conditions were against us. Hopefully, there will be a next time..