We just returned from a wet assignment..Not like agents  on a secret mission – more like half drowned  "periodistas",  making a summer article in Denmark.
It was – if not a nice weather, then at least dry, until ten minutes after we went to sea. The sea, being the biggest "river"in Denmark , Gudenaaen and our vessels of choice being Ulla`s sea-kayak and  a rented canoe. I was captain ( and entire crew) on the canoe,  loaded with just the most necessary  124 kg of camping -, underwater-  and photo equipment.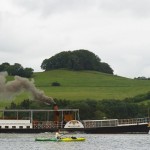 A couple of hours paddle exercise later we landed, both soaked to the skin, in a natural camping area and managed to put up our tent, without being divorced. It is amazing how difficult it can be to put three carbon poles through a pre-arranged route in some meters of material and make it look like a tent.
The following day we managed around ten kilometer on the river- with only a few showers. Ulla  raced against "Hjejlen" , an old paddle steamer and were inspected by a group of ducks. I spend more time getting my cameras in and out of the waterproof sacks, than actually photographing.  As the clouds lifted, we were able to see Himmelbjerget, which, with its 147 meter is the tenth highest "mountain" in Denmark. On the way back we found a place with water lilies, just what I had visualized for a over-and under picture. I mounted my wetsuit, checked the depth with an ore – and as it hit some kind of bottom at around one meter – I leaped overboard…The next moment I barely had my nose above the surface. The bottom was, as all intelligent people would have guessed, muddy…deeply muddy.   When Ulla had stopped laughing, sitting nice and dry in the canoe, where she should be posing for the shot…she did come to my rescue.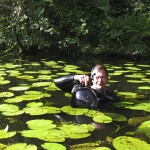 We did get our material for the article and at the end of the two-and-a –half day most of our things were even kind of dry.  But we have developed a deeply admiration for families we met on the trip   – They struggled for weeks – canoeing and camping – in a weather that should , according to the calendar be summertime, but should be called  "rainy season".
    As for the over-and under shot : The water was not quite as clear, as I had dreamed of. Actually the underwater viz was less than ten centimeter, so I had to make do with the upward angel.